Vanuatu Delegation in Germany Participates in Bilateral Meetings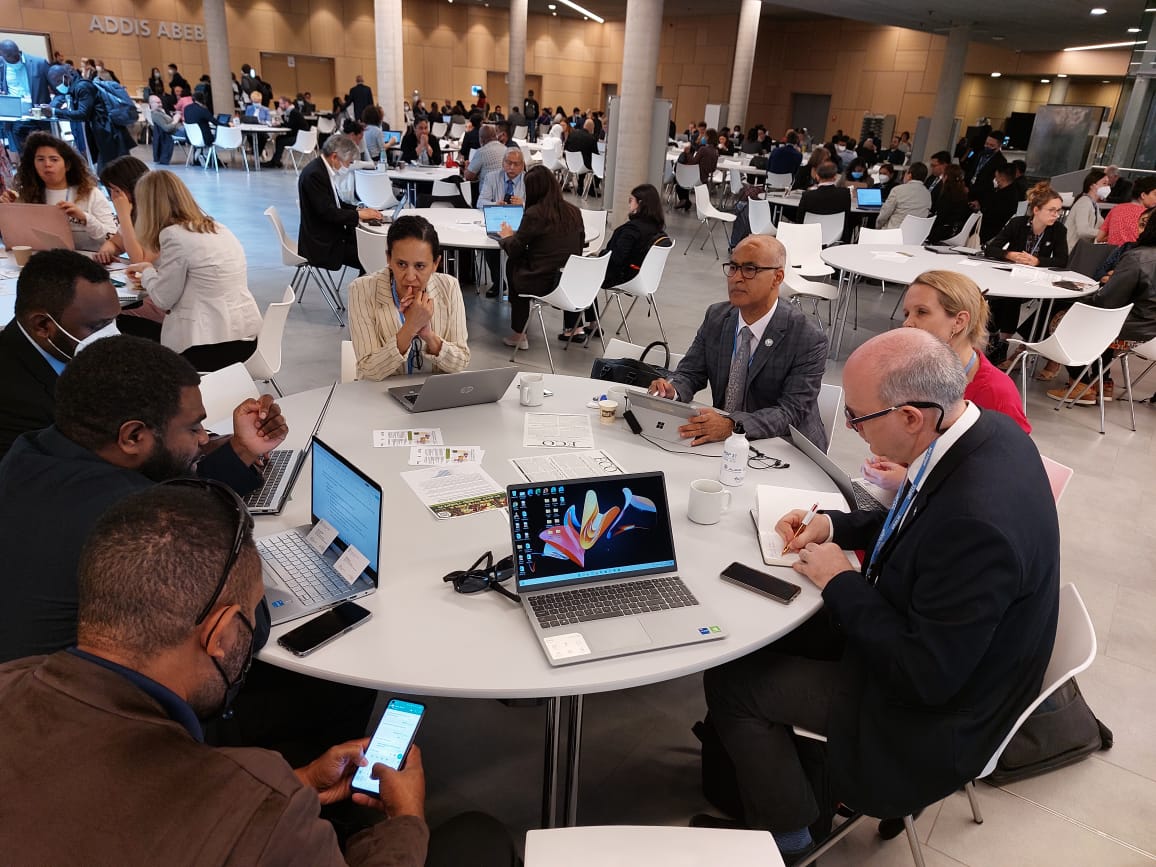 Vanuatu's delegation to the Climate Change Conference in Bonn, Germany, from June 6 to 16 engaged in a number of bilateral meetings.
Five of these bilateral meetings were with Australia, Italy, United Nations Environment Programme (UNEP), Germany and the United Nations Food and Agriculture Organization (FAO).
The first meeting on June 7 was between the Deputy Head of Delegation for Vanuatu, Mr Antony Garae and Jamie Isbister, Australia's Ambassador for Environment.
This took place amidst a shift in Australia's priorities in the area of Climate Change following the election of a new Government in Australia led by Prime Minister, Anthony Albenese.
Australia sought to learn about Vanuatu's climate priorities as it relates to the COP 27 meeting in November 2022 in Egypt and the International Court of Justice Advisory Opinion initiative and how Australia can assist the Pacific Island Countries in their pursuit to implement their Climate Change priorities through bilateral and multilateral mechanisms.
Vanuatu then responded by outlining priorities for Vanuatu at COP 27, which includes Mitigation, Adaptation, Loss and Damage, Finance and Global Stock Take, with greater emphasis on Vanuatu's enhanced Nationally Determined Contributions.
The Australian Ambassador reiterated that their newly elected Government comes with new priorities, a newly set 2030 target to reduce emission by 40% and by 2030 80% of Australia's total energy will be generated from renewable energy sources. 
The Ambassador further informed of the new commitment of 525 million AUD for the Pacific Island countries to support their Climate aspirations and priorities. 
Australia also reaffirmed its readiness to support Pacific Small Island Developing States (PSIDS), in adaptation, Financing, Loss and damage, and enhancing the mitigation agenda.  The Ambassador acknowledged Vanuatu's leading role in the Alliance of Small Island States (AOSIS).
Australia also looks forward to assist Vanuatu in any way it can particularly in the ICJ Advisory Opinion initiative in the lead up to the Pacific Islands Forum meeting.
The bilateral meeting with Italy on June 9 saw Vanuatu's participation through the Head of Delegation for Vanuatu, Mr Mike Waiwai.
Italy currently supports three main projects in Vanuatu and they include resilience on sustainable agriculture, focusing on providing and setting up irrigation systems on Efate, Tanna and Santo. 
The second is a project on scientific cooperation, on design and support for Marine Special Plan for Vanuatu, which is implemented through the Foreign Ministry of Vanuatu. 
The third project is on increasing safe and sustainable water in Vanuatu.  Negotiations are ongoing for the third project.
Italy has requested for Vanuatu to submit project proposals for consideration by the Italian Government.
The bilateral meeting also on June 9 with UNEP was between Head of Vanuatu Delegation, Mr Mike Waiwai and Dr Alvin Chandra.
The UNEP representative says they, along with UNDP are supporting a number of projects in Vanuatu.
The Vanuatu Head of Delegation was also involved in the bilateral with Germany.
Germany acknowledged Vanuatu's International Court of Justice Advisory Opinion initiative.
Germany also pledges support for Vanuatu's enhanced Nationally Determined Contributions (NDC) through viable mechanisms.
With reference to insurance on adaptation and short-term climate risks, Germany is keen to learn about Vanuatu's plans on Climate Insurance for resilience. 
The fifth bilateral took place between Head of Vanuatu Delegation, Mr Mike Waiwai and the FAO delegation.
Mr Waiwai acknowledged FAO's assistance in Vanuatu, particularly in the area of food security. 
As a thematic area under climate priorities, Vanuatu is aiming to build resilience in this area not only in agriculture and fisheries but also in aquaculture. FAO informed that Aquaculture is high on its agenda.