Department of Climate Change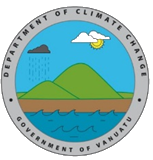 The Department of Climate Change is tasked with the coordination and implementation of all Adaptation, Disaster Risk Management and Mitigation to climate change impacts throughout the country.
This Department has functions that are cross-cutting in all sectors at national level as well as regionally and internationally.
The Department works with relevant stakeholders as identified in the Vanuatu Climate Change and Disaster Risk Reduction 2016 – 2030 policy, to carry out its activities.